Chicago Property Tax Attorneys
Are your Chicago property taxes too high? Set up a free no-obligation consultation!
Schedule a Free Call
We've been helping people like you lower your Chicago property tax bill since 1985!
Serving Your Building Or Home
Whether your property is commercial, industrial, or residential, our property tax lawyers and staff have unmatched experience with assessment appeals before the Cook County Assessor and Board of Review. We have experience at the Illinois Property Tax Appeal Board ("PTAB") and in the Circuit Court of Cook County. Latest News from Schiller Law, P.C.
Keep up to date with all the latest news and tax updates in Cook County.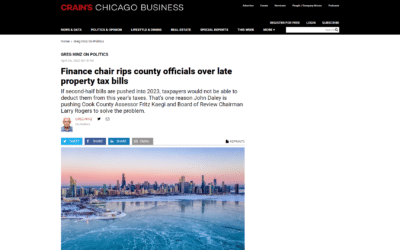 If second-half bills are pushed into 2023, taxpayers would not be able to deduct them from this year's taxes. That's one reason John Daley is pushing Cook County Assessor Fritz Kaegi and Board of Review Chairman Larry Rogers to solve the problem. Read more at...
read more
"I've been a client of Schiller, Strauss and Levin for many years.  Leonard Schiller, Melissa Cross and  their entire team have saved me thousands in real estate taxes over that period of time. They are experts in their field and their professionalism and communication with their clients is unparalleled in the industry.  I highly recommend them."
Ross P.
"The best way to attract new clients is to take care of the ones you have."
Nancy B.
'Melissa and her team are the best in the business."
Brian G.
"Your suggestion to use Melissa for property tax appeal turned out very well. They got it knocked down to $55k for next 3 years.  Last year it was $50k and cook county had tried to raise it to $72k"
Sarah C.
"Thank you for your diligent efforts and successful outcome. It is greatly appreciated."
Jerry T.
"Own property in Cook County and want your taxes reduced? Call Abby. She knows real estate property tax law as good as anyone. We continue to use her services for many years."
John O
"Abby's work as a real estate tax attorney is incredibly thorough! She has found tax reductions for many of my clients and myself!"
Susan M